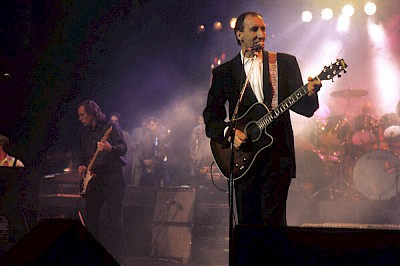 Part One/David Gilmour and Pete Townshend during their tour 1985/86
David Gilmour
Face The Face- Live 1986
March 08, 2021, by Peter Brandt
It was recently David Gilmour's 75th birthday, Happy Birthday Mr. Gilmour!
A beautifully illustrated article celebrating his birthday reminded me that I had the honour and pleasure to accompany three of the four 'Pink Floyds' on their solo projects over the years.
We recorded Pete Townshend's 'Deep End' with David Gilmour for Rockpalast in January 1986 during Midem in Cannes. As Gerd Rautenbach's assistant, I was responsible for the technical recording on two analogue 24-track Ampex MM1200s with Dolby-A noise reduction.
This sensational and unique concert with an absolute top line-up almost didn't take place because of a heavy storm with flooding that lasted for days. The clearance for the concert in the tent close to the shore came only shortly before the show started.
Eagle Rock released the concert on DVD many years later, in 2016.
Photo licensed by imago-images.de.